I am unable to find a lot of pictures of pilonidal pits so I am hoping this may be helpful to a few.
I believe these are 5 pits. The lancing is the incision you see (my first lancing was about 5 weeks before this picture) In this picture I am bending over and pulling my cheeks. These are about 2cm in length.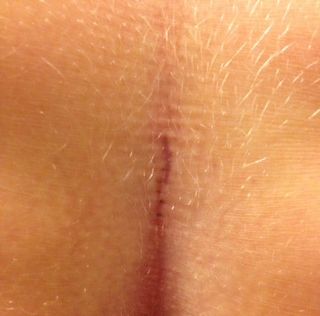 This is just the beginning of my journey. My surgeon and primary care doctor has seen these pits (the cyst area) and dismissed me saying to not worry unless it became inflamed again. They didn't believe it would come back. A month after lancing it came back ;-( However, I started my antibiotics right away and it is back to it's pea sized shape. I am looking into surgery options. Ideally I would like to wait until summer due to being scared to taking off too long of school.